EHIME UNIVERSITY Faculty of Law and Letters Research Center for the Shikoku Henro and Pilgrimages of the World
3, Bunkyo-cho, Matsuyama, Ehime, 790-8577, JAPAN
Phone & Fax: +81- 89 – 927 – 9312
Email:henro.center.ehime@gmail.com
Aims of our project
The Research Center for the Shikoku Henro and Pilgrimages of the World was established in April 2015 as an institution affiliated to the Faculty of Law and Letters, Ehime University. Our center consists of researchers in various disciplines such as history, literature, sociology, philosophy, law, economy, and tourism.
The aims of our Center are as follows:
1) Investigate the history of the Shikoku Henro and its activities in modern society;
2) Develop comparative studies with pilgrimages of the world;
3) Contribute to local communities through interdisciplinary studies and assist with the movement to get the Shikoku Henro registered as a World Heritage site.
Division of domestic study
There are many unanswered questions concerning the Shikoku Henro such as its origin and the reason why it has "eighty-eight" temples. Among those who make the Shikoku Henro there are an increasing number of people from around the world who visit the temples with various motives.
The aims of this division are as follows:
1) Study historical aspects of the Shikoku Henro from ancient to modern periods through interdisciplinary approach;
2) Investigate various activities of contemporary Shikoku Henro through field research.
Division of international study
There are many pilgrimages in the world, for example, Camino de Santiago, Hajj, and Mount Wutai in China. Many people from various countries make journeys to sacred places of their own religion. This Division aims to study history and contemporary activities of pilgrimages in the world and to develop comparative studies with the Shikoku Henro.
Members
Division of Domestic Study
| | |
| --- | --- |
| Hiroshi  TERAUCHI | Director, Professor |
| Koichi  SUGIMOTO | Associate professor |
| Hikaru  EBESU | Professor |
| Mirai  NAKAGAWA | Senior Assistant professor |
| Kosei  NISHI | Professor |
| Yoko  KAGURAOKA | Professor |
| Makoto  AOKI | Associate professor |
| Tsutomu  KAWAOKA | Professor |
| Kusuo  UCHIDA | Professor emeritus |
| Seiji  YONEDA | Associate professor |
|  Hiroko  KANEHIRA |  Professor |
|  Yoshito  YAMAGUCHI |  Professor |
|  Yasuhiro  TAKEUCHI |  Professor |
|  Ikuo  TAKEKAWA |  Professor |
|  Kenya  NOZAKI |  Associate professor |
|  Naoyuki  OTANI |  Associate professor |
|  Azusa  IGUCHI |  Associate professor |
|  Ryoko  SATO |  Associate professor |
Division of International Study
| | |
| --- | --- |
| Hiroomi  TAKAHASHI | Professor |
| Nariko  SUGAYA | Professor |
| Masahiro  YOSHIDA | Professor |
| Takahiro  SAITO | Associate professor |
| Yoshifumi  KATO | Professor |
| Tomoyuki  YAZAWA | Professor |
| Hiroshi  YAMAKAWA | Professor emeritus |
Publications
Proceedings of the 2014 "The Shikoku Henro and Pilgrimages of the World" – Public Lecture and Research Meeting(pub. March 2015)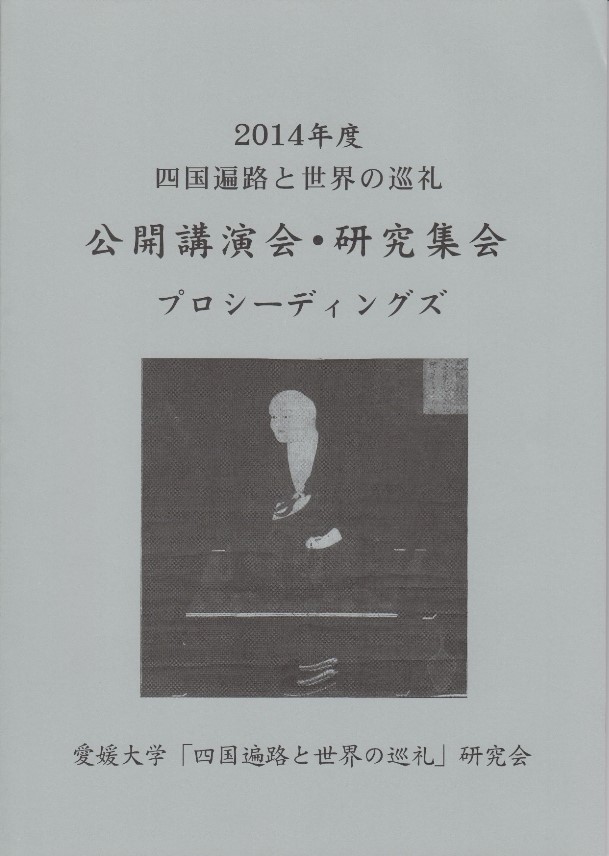 Contents
Public Lecture
Understanding the religious world of Kūkai through the experiences of modern-day Shikoku pilgrims.
Eiki HOSHINO
Research Meeting
Sculptures, paintings and calligraphic work, and artwork of Temple 52,Taisanji – An investigation into the "Kūkai no Ashiato – Shikoku Henro Exhibition" commemorating the 1200th year of the founding of the Shikoku pilgrimage
Ken NAGAI, Hitomi ISHIOKA
The Shikoku pilgrimage of the early Edo period – tracing the footsteps of Chōzen
Sōshuku SHIBATANI
A comparison of various copies of Shikoku Henro Michishirube
Kusuo UCHIDA
The Mazu pilgrimage of Taiwan and China – its formation, development and present situation
Tomoyuki YAZAWA
Documents
Publication by EHIME UNIVERSITY -The Shikoku pilgrimage and Pilgrimages of the World
Hiroshi TERAUCHI
A study of the  Shikoku Henro Michishirube of the Seto Inland Sea Folk History Museum
Kusuo UCHIDA
Proceedings of the  2013 "The Shikoku Henro and Pilgrimages of the World" – Public Lecture and Research Meeting (pub. March 2014)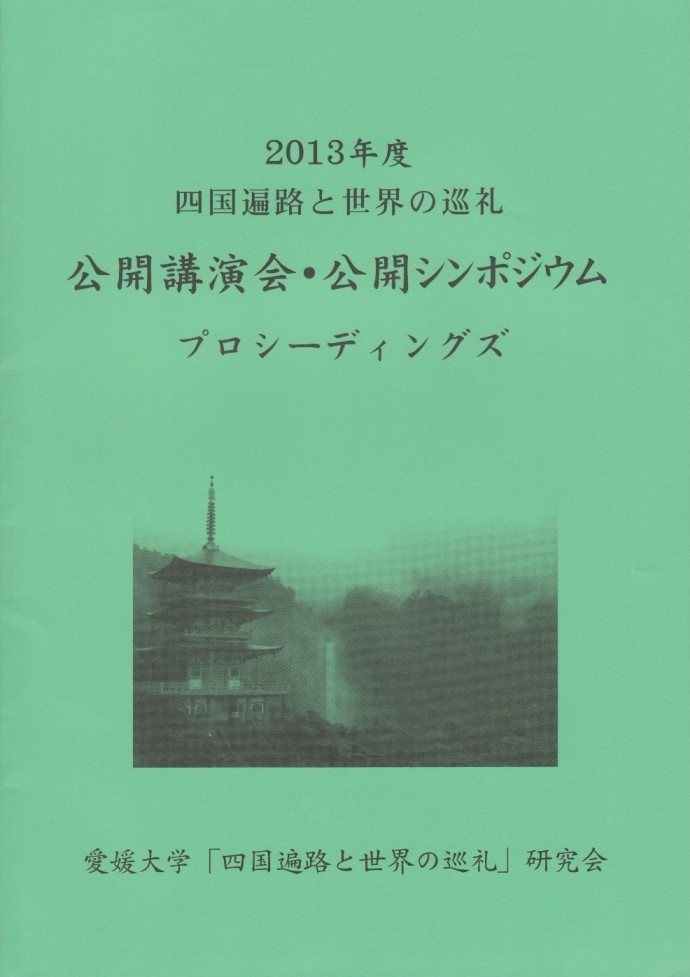 Contents
Public Lecture
Various aspects of pilgrims during the Edo period – using materials along the Kumano Kodō
Akira TSUKAMOTO
Comments
Kusuo UCHIDA
Akira TSUKAMOTO
Research Meeting
Shikoku as seen through pilgrim diaries – from the inside and outside
Hikaru EBESU
Pilgrimages to sacred sites of the Shiites – focusing on pilgrimages to sacred tombs in Iran and Iraq
Tomoko MORIKAWA
Embarking on the Shikoku pilgrimage from Etchu province – examining the contents of "Dōchū kozukai tomechō"
Koji KONDO
The worship of saints of Morocco and pilgrimages – from a cultural anthropological viewpoint
Tsuyoshi SAITO
Documents
Various aspects of pilgrimage and travel diaries
Akira TSUKAMOTO
Koji KONDO
Hikaru EBESU
Proceedings of the  2012 "The Shikoku Henro and Pilgrimages of the World" – Public Lecture and Research Meeting (pub. March 2013)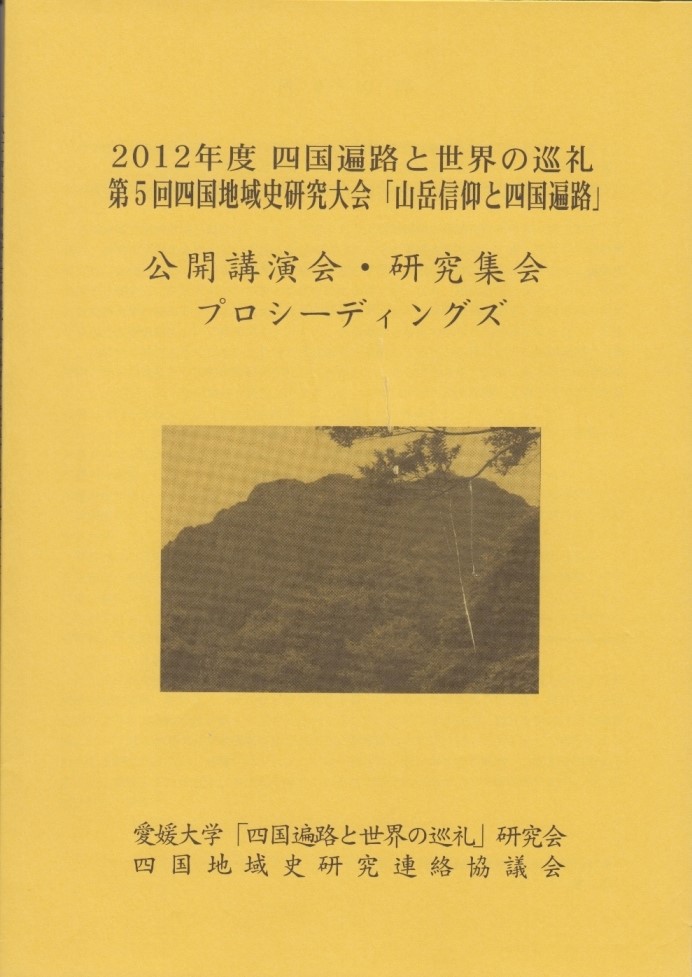 Contents
Public Lecture
Religion and Kingship in Ancient Greece: Peak Sanctuaries and Minoan Kingship
Hiroshi YAMAKAWA
Worship of Mount Ishizuchi and the Shikoku Pilgrimage
Kenji NISHIGAI
Research Meeting
A Mountain Forest Temple: The Site of Nakadera Ruined Temple and the Ageof Kūkai (Kōbō Daishi)
Hiroyuki KANO
Temples of the Shikoku Pilgrimage As Seen from an Archeological Standpoint: From a Survey of Tairyūji and Kakurinji Temples
Takahito HAYABUCHI
Aspects of Mountain Worship in the Shikoku Pilgrimage: Shikoku Pilgrimage Temples in Tosa and Mountain Worship
Keisuke OKAMOTO
Views of Female Impurity in Relation to Japanese Mountain Worship and the ShikokuPilgrimage
Masayasu MORI
Mountain Worship and the Shikoku Pilgrimage
Hikaru EBESU
Proceedings of the  2011 "The Shikoku Henro and Pilgrimages of the World" – Public Lecture and Research Meeting (pub. March 2012)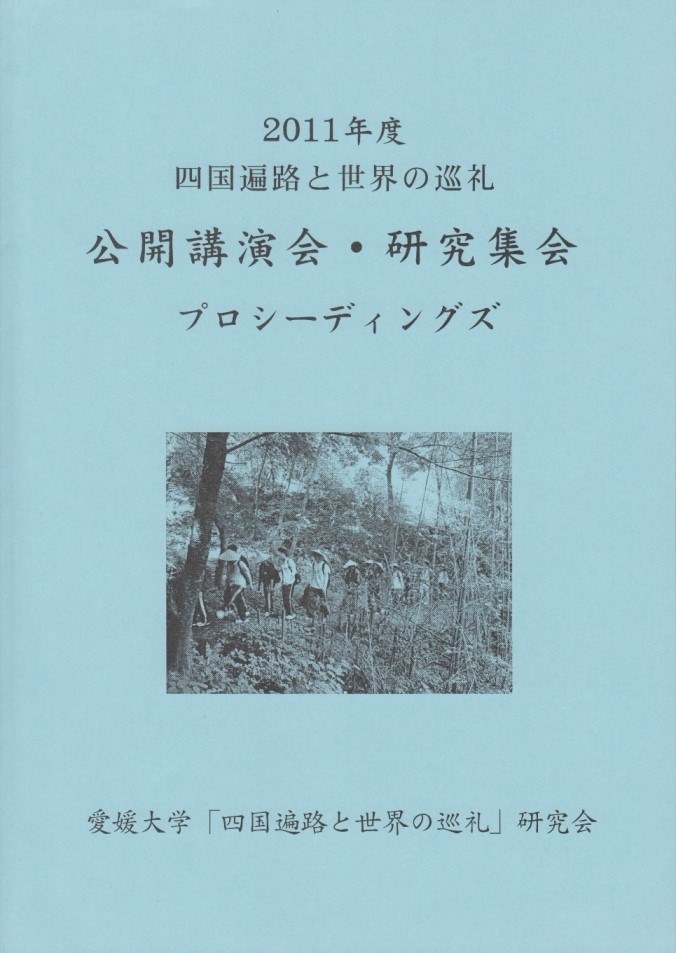 Contents
Public Lecture
Enhancing Local Potential through the Culture of the Shikoku Pilgrimage: In the Case of Naruto University of Education
Masaaki ŌISHI
Comments
"The Shikoku Pilgrimage on Foot" as a trial General Education course at Ehime University
Hiroshi TERAUCHI
Research Meeting
The Pilgrimage to Mecca and the Visit to the Tombs of the Saints in Islam
Kaoru AOYAGI
Modernity and Materiality of the Henro pilgrimage in Japan
Masato MORI
What sorts of people make the Shikoku Pilgrimage?  From interviews conducted in 2011
Ikuo TAKEKAWA
Changes in the Conventions of the Shikoku Pilgrimage: A Reconsideration
Kusuo UCHIDA